If you're in the rail business, you know that keeping tabs on your inventory can be challenging. Perhaps you've tried software solutions in the past that somehow managed to make your inventory management even more of a headache. At the end of the day, many will resort to spreadsheets or pen-and-paper solutions even after investing in what was supposed to be a competent inventory management solution.
The truth is, inventory management is difficult. There are a lot of moving parts, and if any one thing falls through the cracks, it can have a serious impact on your business. That's why it's so important to find a solution that works for you.
The good news is, there are a lot of great inventory management solutions out there.
Meet TrackInventory: TrackInventory is the inventory management software designed specifically for rail! We analyzed feedback from our fantastic clients and shaped our software into the ideal tool for managing rail inventory. TrackInventory is designed to accommodate the unique needs of rail customers and provides an easy-to-use interface for managing inventory effectively.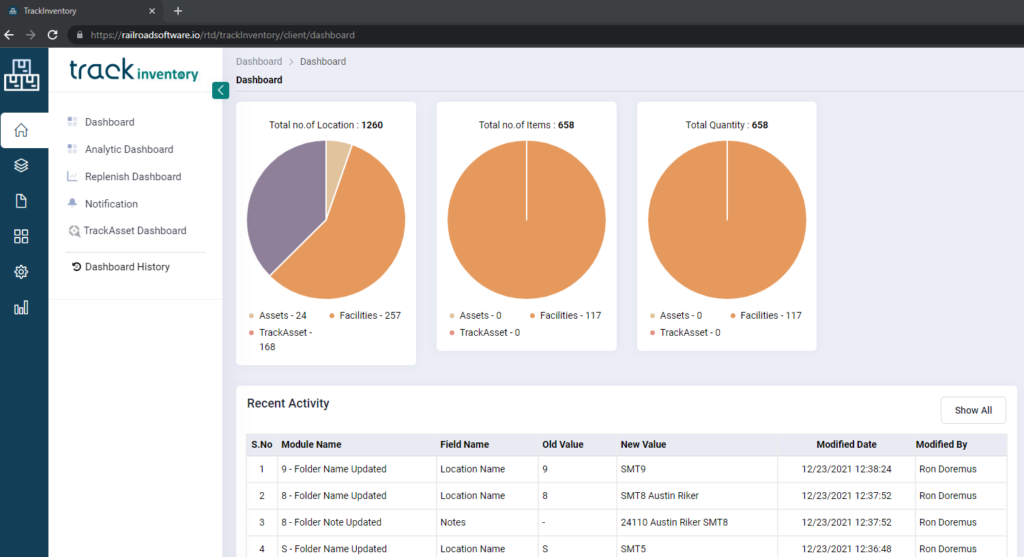 One of the most powerful features of TrackInventory is its deep integration with our asset management solution, TrackAsset. Parts and equipment can be assigned to assets in the field, replaced, sent back for repair, and much more. From within TrackInventory, you are provided with a complete view of all part movement to and from your warehouses. In addition, you can access helpful analytics to quickly determine burn rates and replenishment needs so you can make informed decisions when ordering new stock—resulting in savings for your business.
Having all of this information at your fingertips helps to run your business more efficiently by keeping better track of your inventory levels and forecasting when you need to order more parts.
If you have already spent time and energy setting up an inventory system that you are not happy with, you may be apprehensive about moving to a brand-new solution. The Railroad Software team works hand-in-hand with our clients to ensure a seamless implementation of TrackInventory, and we account for your unique needs and preferences. We understand that you may be hesitant to make a change, but we are confident that TrackInventory is the best solution for your business. We've helped many other rail companies and we can help you streamline your inventory management. Our on-site and virtual training is customized to your business and team, making the implementation process a breeze. With our comprehensive and customized training, your team will be utilizing the software effectively and confidently by the end of onboarding.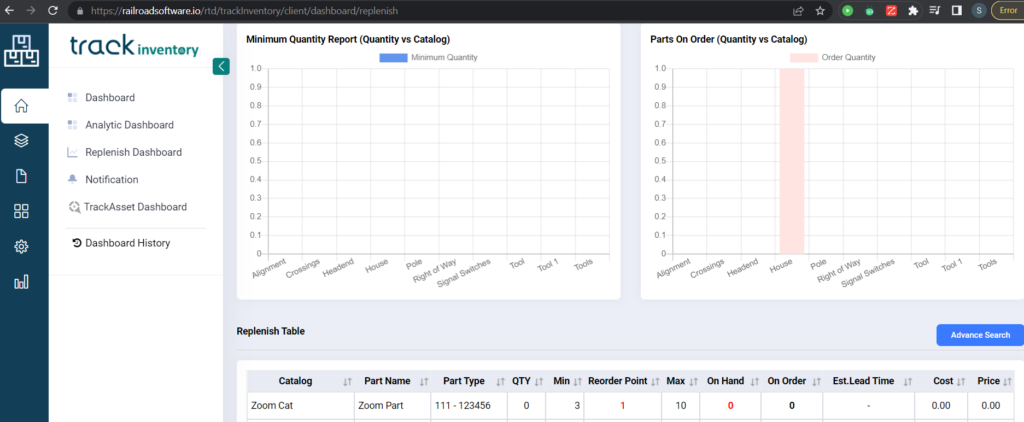 TrackInventory is our latest inventory management software solution that works in the cloud. You and your team can view, edit, add, and deploy inventory items anywhere you bring your laptop or tablet! At Railroad Software, we pride ourselves on providing top-tier inventory management software to businesses of all sizes. Our platform is designed to be highly customizable so that each business can tailor it to fit its own specific needs.
If you're interested in seeing how TrackInventory could work for your business, we would be happy to give you a free, no-obligation demonstration of the software. Simply contact us here to set up a time for the demo. We look forward to working with you to customize your ultimate inventory management experience!