Jeff Birmingham, our CEO, shared his insights and advice. Read on for his personal story and thoughts on the industry: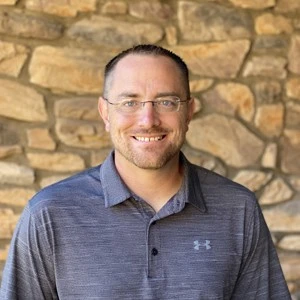 You're a CEO, a pastor, and a family man. What are your motivations for pursuing so many different paths, and how do you balance it all?
I am truly passionate about all of my roles, and I believe that each one is a calling in my life. However, balancing these diverse responsibilities can be challenging. With every decision I make, something is sacrificed, so the key is to ensure that the sacrifices I make do not affect my priorities. I believe that putting the Lord first is the best way to prioritize and maintain a sense of balance in my life.
How did you get started in the railroad industry?
As a fifth-generation railroader, trains have been an integral part of my life from an early age. I can still recall my days playing in coal piles, progressing to scraping grease off railcars, and becoming the steam engineer in my family's tourist train railroad in Cripple Creek, Colorado. Eventually, I went to college to become an engineer, which ultimately led me to become a registered professional engineer. This led me down a path into coastal engineering where I developed marinas and other marine projects. Eventually, I discovered a desire to start a business.
So, with unwavering determination, just two months of savings, and two young children in tow, I made a bold move to start a business that eventually turned into Railroad Software.
That must have been nerve-wracking?
It was! The first month I made exactly enough money to survive, doing just about anything I could get my hands on, which included business card design, seawall inspections, and website development. The second month I made a couple of hundred dollars more than the minimum needed to care for my family. In the third month, the door opened to develop an application for my family's railroad – Hudson Terminal Railroad. This was the start of Railroad Software. After about a year, I was able to hire my first full-time employee, and I fondly remember our first few months meeting in a hotel lobby in Melbourne, FL, with the current CTO of the company.
What are some of the challenges of working in the railroad industry?
One of the biggest challenges we have faced is the reluctance of the rail industry to embrace new technology. The railroad industry has been slow to adopt new technologies, and many workers are resistant to change. This has made it difficult to get our products and services adopted by railroads. However, we have seen some progress in recent years. As new leadership comes into the railroad industry, there is a growing desire to adopt new technologies. This has opened up new opportunities for us, and we are optimistic about the future. We have seen how railroads can use data and technology to stay compliant instead of relying on guesswork, and that's rewarding. No matter how organized and efficient rail business operators strive to be, their efficiencies will be limited by their unwillingness to embrace new technology.
How has your family's legacy influenced your own career?
My family's legacy has influenced my career in two ways. First, it has given me an appreciation for the role the rail industry plays in shaping our world's history. My great-great-grandfather helped construct the transcontinental railroad, and I grew up hearing stories about his experiences, including one where he served as a train crew superintendent in Nebraska facing challenges like a skirmish with Native Americans that tragically affected half of his crew.
Second, my family's legacy has given me a practical understanding of the day-to-day "nuts and bolts" workings of the railroad industry. I have seen firsthand the challenges that rail workers face, and I have learned to develop solutions that address these challenges. This practical understanding has been invaluable in my career, and it has helped me create a solution that the rail industry actually wants to use.
What was it like working in Dubai as a Marine and coastal engineer?
Working as a Marine and Coastal Engineer in Dubai was an incredible experience. It was like being in the wild west of opportunity. There were so many new projects being developed, and I was able to work on some of the most ambitious and groundbreaking projects in the world.
I worked on projects in most of the major marinas in Palm Island and The World Islands, and even one in Abu Dhabi. I was a 25-year-old running projects that were 50-100 million USD in construction cost. I once picked up a marina engineering contract just by getting a police report for a minor accident on a rental car.
How has this international experience helped you in your current role?
Well, I travel internationally with my family often, and this has given me a deep understanding of the challenges that the rail industry faces on a global scale. I have seen how these challenges can vary from country to country, but the rail industry is global. Every country is moving people and goods, and they all face the same challenges. This helped me to develop a more holistic understanding of the industry and to create solutions that can be used in a variety of settings.
What are some of the things you're most passionate about in your work?
I am passionate about creative problem-solving and product creation. I love the challenge of identifying a problem and coming up with an effective and innovative solution. I also love the process of brainstorming ideas, prototyping, and testing until I have created something that I am truly proud of. I believe that the best solutions are often the result of collaboration and creativity.
What advice do you give to someone looking to be an entrepreneur or start a new role in the industry?
Most people are constrained by fear, but at the end of the day, there is always another opportunity. You never have only one shot. I am not the type of person to sit back and regret not trying. Try it. There will be big wins and big failures, but I have learned more from the misses and came back stronger with a better product every time.
If you're thinking about starting a new venture or taking on a new role, my advice is to go for it. Don't let fear hold you back. The worst that can happen is that you fail, and even then, you'll learn something valuable.