Railroad Inspection Management Software
trackAsset is an enterprise level asset inspection management software designed to simplify and increase the efficiency of completing regulatory and regular inspections. The sharp, clear, and consolidated application allows users the ability to see their assets through web accessible browsers both from a desktop and mobile devices. The advantage of customizable asset building for all assets increases operational efficiencies and the ability to get inspections done without the paperwork and with more accuracy. trackAsset was designed for all these purposes in accordance with Federal Railroad Association (FRA) compliance data requirements. The base setup has all of the inspection tests and forms required for a user to meet FRA standards.
Inspections are made easier with the ability to: add photos of the assets, create, assign and complete work orders, and manage asset inspections over time with historical record keeping for the life of the asset. The user-friendly and visual dashboard allows users to view upcoming inspections and work orders assigned to individuals. The assets commonly tracked through the software include: Signals, Bridges, Locomotives, PTC Equipment, Switches, and Track.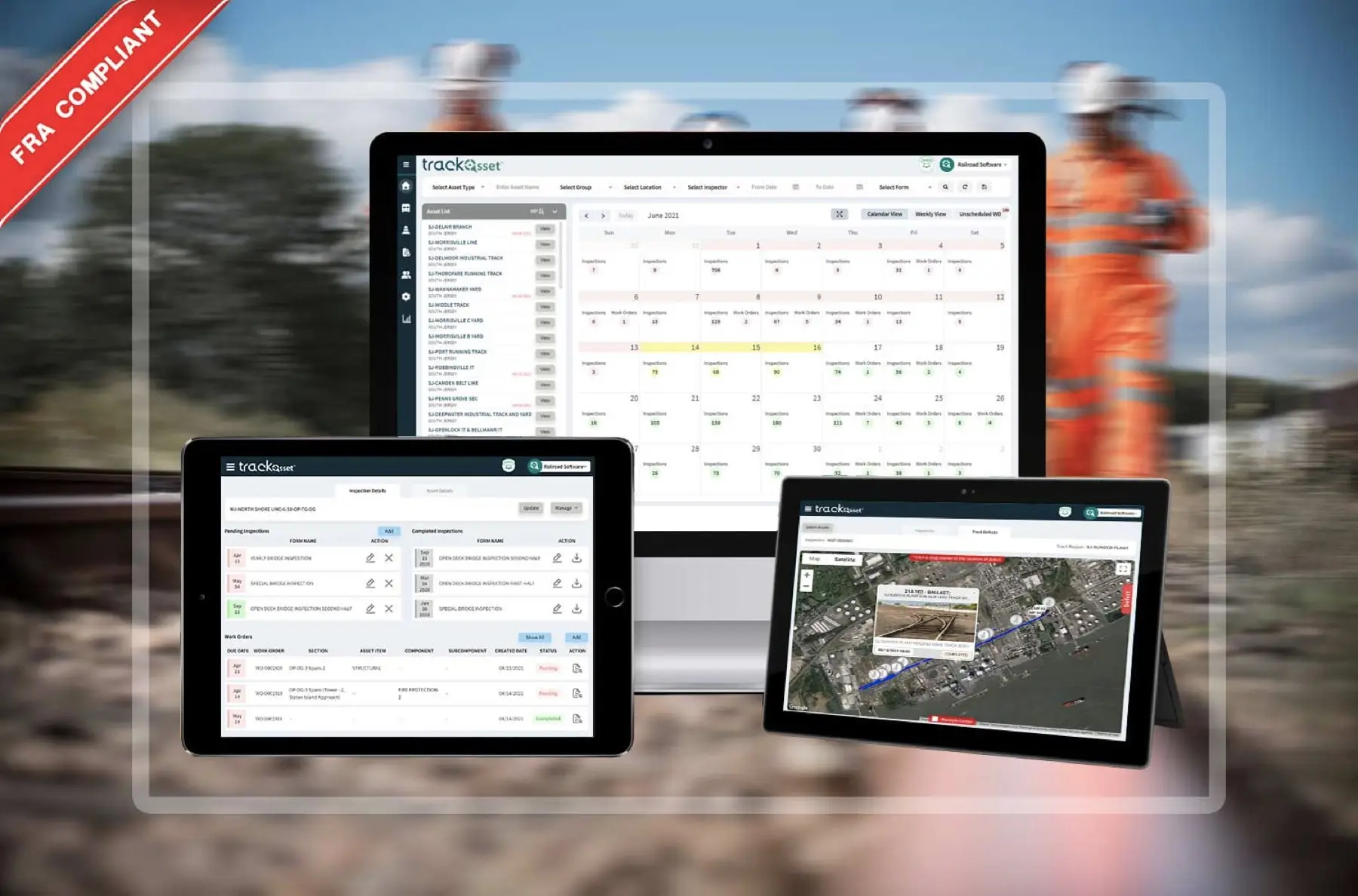 Signals
Signal inspection has never been easier with this technology. Inspect Signals more efficiently through tablet based forms. Inspectors have the ability to select statuses of the signals being inspected quickly with user-friendly, intuitive design.
Bridges
Bridge management is simple by a unique approach to building out bridge spans. For all bridges, the application is able to break the structure down by Substructure, Superstructure, and the Deck to allow for Bridge Inspectors to move through their inspection seamlessly while bringing a familiarity that prior paper forms gave employees.
Track/Switches
Railroad Software envisioned a new, easy approach to completing inspections for both track and switch inspection management. The result is a GPS coordinate mapping display for the assets along the track. Inspectors have the ability with their tablet to ride along the track and walk the track quickly filling out the proper information on the inspection.
Locomotive
With the software, users have both daily inspection forms and periodic locomotive inspections in one consolidated location. Locomotive inspection forms are easier to manage and the data collected from the inspections is more visible.
PTC Equipment
Inspect Communication Towers, Switch Machines, AEI Readers, and other Positive Train Control Equipment with the custom asset building forms. The data collected on every PTC Equipment asset promotes safety and increases operational efficiency through visibility and accessibility.
Other
Other options include any asset within a railroad facility that users require inspections for. With provided forms used previously the users are able to build out the same or similar forms for your inspection needs.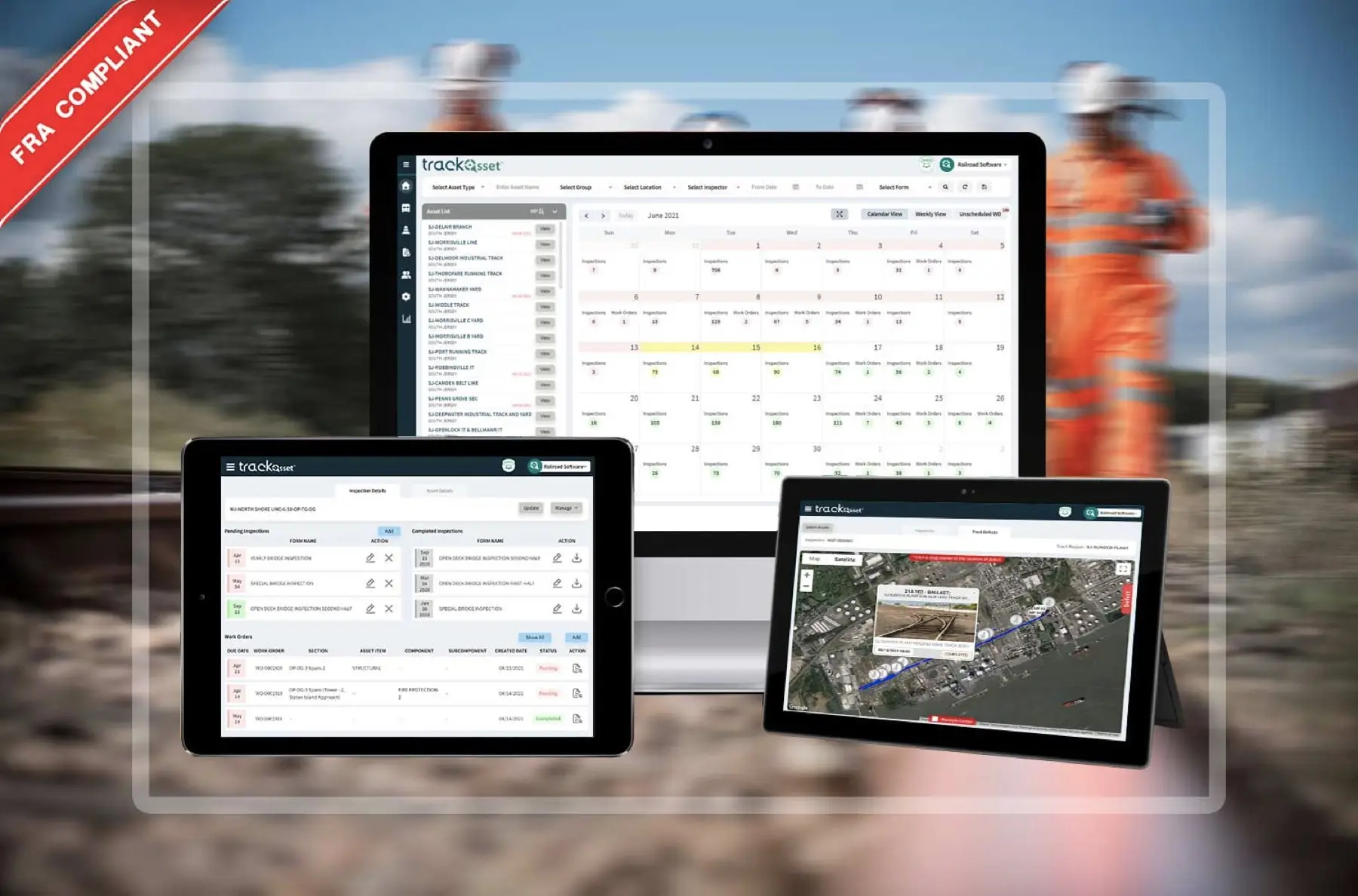 Increase the Accuracy, Productivity, & Visibility of your Maintenance of Way Assets and Inspections.
Code Of Federal Regulations
Part 213 – Track Safety Standards
Part 234 – Grade Crossing Signal System Safety
Part 236 – Rules, Standards, & Instructions Governing the Installation, Inspection, Maintenance, and Repair of Signal and Train Control Systems, Devices and Appliances
Part 237 – Bridge Safety Standards.
Training, Implementation, And Consulting