Railroad Software was founded in 2012 with the goal of making software available and affordable to every rail yard and railroad in the world regardless of their size or technical capabilities. As the years have gone by, the company has grown, relocated, hired new team members, and developed new solutions that serve the industry. The slogan "Industry-defining software with personalized service from rail experts" is not just a catchy phrase but a mentality and approach that truly gives the rail industry a software provider that can be trusted and partnered with on applications and ideas. 
In Melbourne, Florida a 29 year old Jeff Birmingham was looking to the horizon for a new business after working as a coastal engineer. While working in the United Arab Emirates and across the United States on coastal marinas, palm islands, and other coastal engineering projects, Mr. Birmingham may have never thought that his rich family history in railroading would come back to him. As a fifth generation railroader from Colorado he grew up on the railroad. His family owns the Hudson Terminal Railroad in Hudson, CO and the Cripple Creek and Victor Narrow Gauge Railroad. At the time Mr. Birmingham was looking for a new challenge, Hudson was looking for a product to manage their terminal with real time access to railcar positions, statuses, and the ability to take the railcar inspection process to an electronic system of record.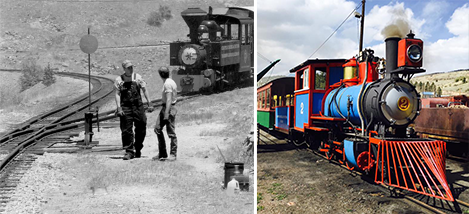 Mr. Birmingham's parents asked that he find them a solution on the market that met their needs. After searching the market, going through demonstrations with vendors, and reviewing pricing, Mr. Birmingham came away from the process without a top choice. All of the solutions were outdated, not user friendly, and were priced too high for what the applications were able to offer. He went back to his family at Hudson and arranged a deal where he could develop an application that met each of their needs and in turn it would form the basis of a business he could grow. From there, Railroad Software and its first application, Railyard Terminal Management System (RTMS) were born. 
Over the last 7 years the company has introduced two other applications to the railroad industry that help customers across the U.S. and Canada move to electronic systems. TrackAsset is an application built for maintenance of way engineers and inspectors to collect inspections, work orders, and manage assets across all disciplines in one solution. TrackHOS has maintained the hours of service time entries for employees through smartphones, tablets, and desktops saving customers time and money.. 
Located in Cumming, GA, Railroad Software currently employs 20 people who have all worked to make the company successful. As the railroad industry continues to put old practices into new electronic systems, the company looks forward to cultivating new relationships and providing service to every railroad across the globe. 
For more information about Railroad Software and its products, visit our RTMS, TrackAsset, and TrackHOS pages. To learn more about our team, click here.